Experience Designing Karesansui (Zen Dry Landscape) Garden!
Written by National Government Licensed Guide Interpreter Keiko Tsutsui
Keihanna Commemorative Park is always breathtakingly beautiful because it is maintained by a professional landscaping team, which takes care of Kyoto's famous Japanese gardens as well with their traditional and top-level skills. Here, they provide us an experience program to design a Zen garden (dry landscape garden) called Karesansui. I believe this is the only place that you can learn designing Karesansui garden. Luckily, I could experience this program as shown in the pictures today.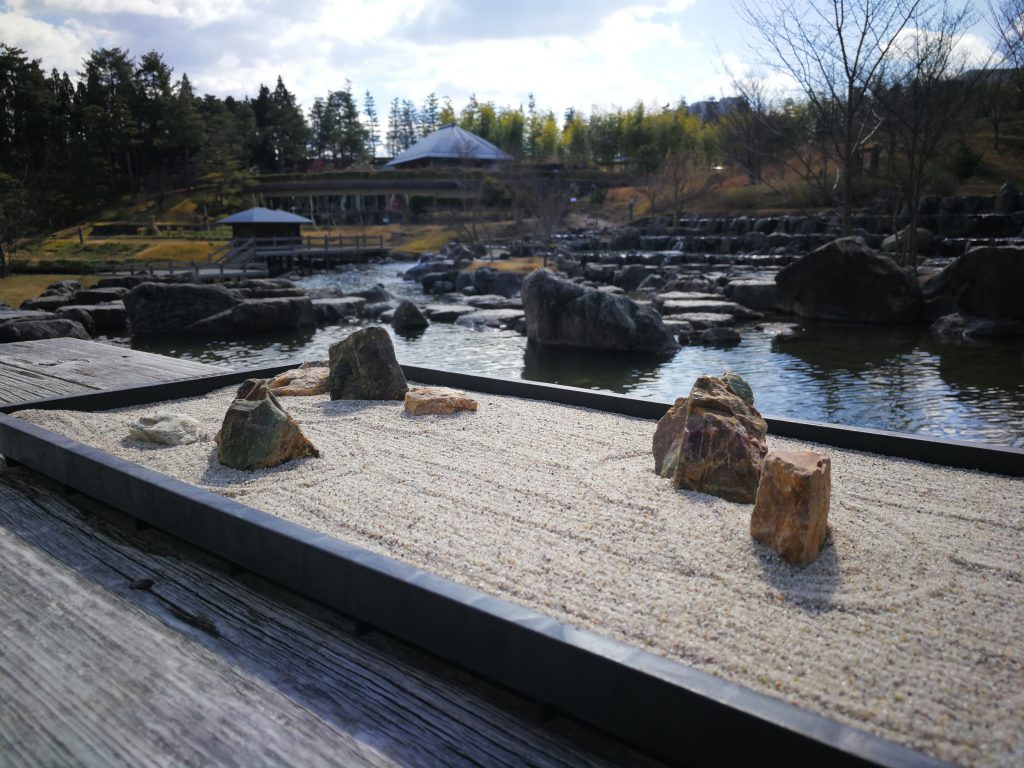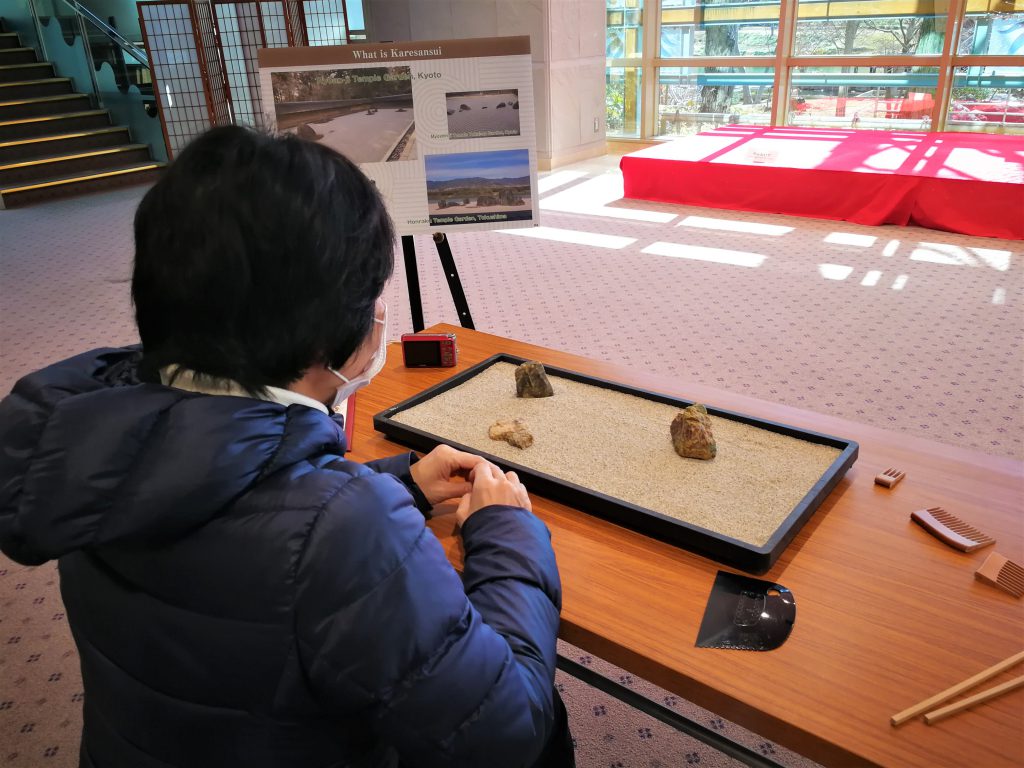 First, the instructor explained the technology and spirituality of Karesansui gardens. Apart from Japanese gardens that usually use water, Karesansui gardens are formed from sand, stones and viewer's insight. Since the simplicity and the beauty of the margins match Zen teaching, many Zen temples have Karesansui gardens. In this program, we make a miniature Karesansui garden from sand and an odd number of stones in a rectangular case.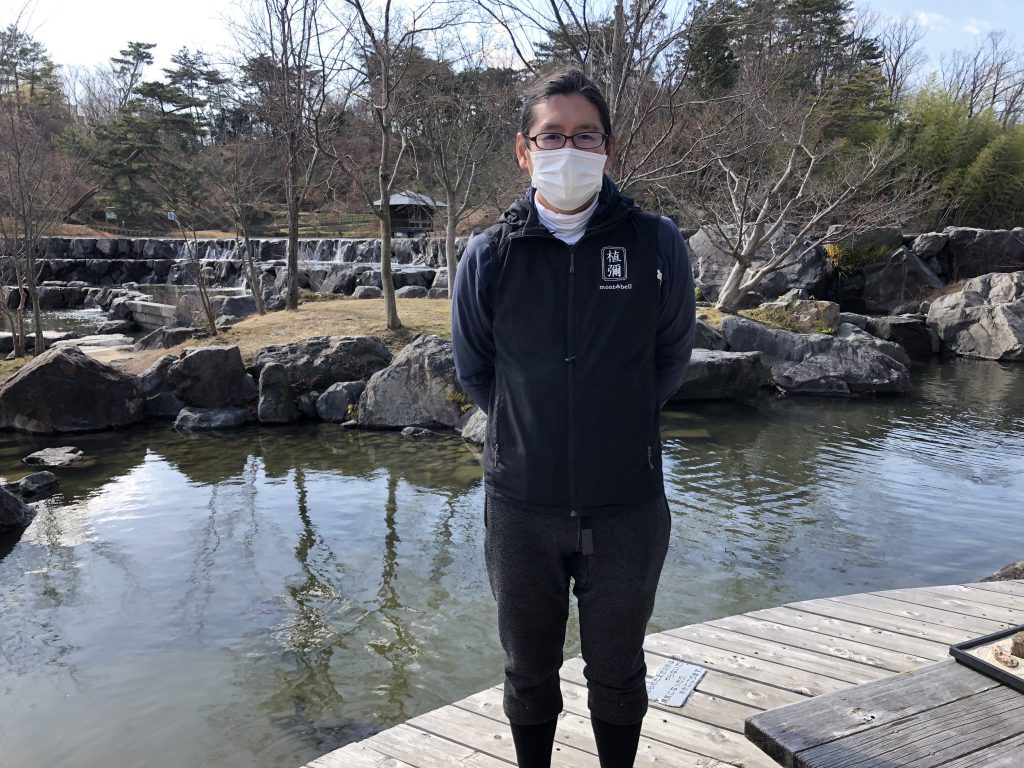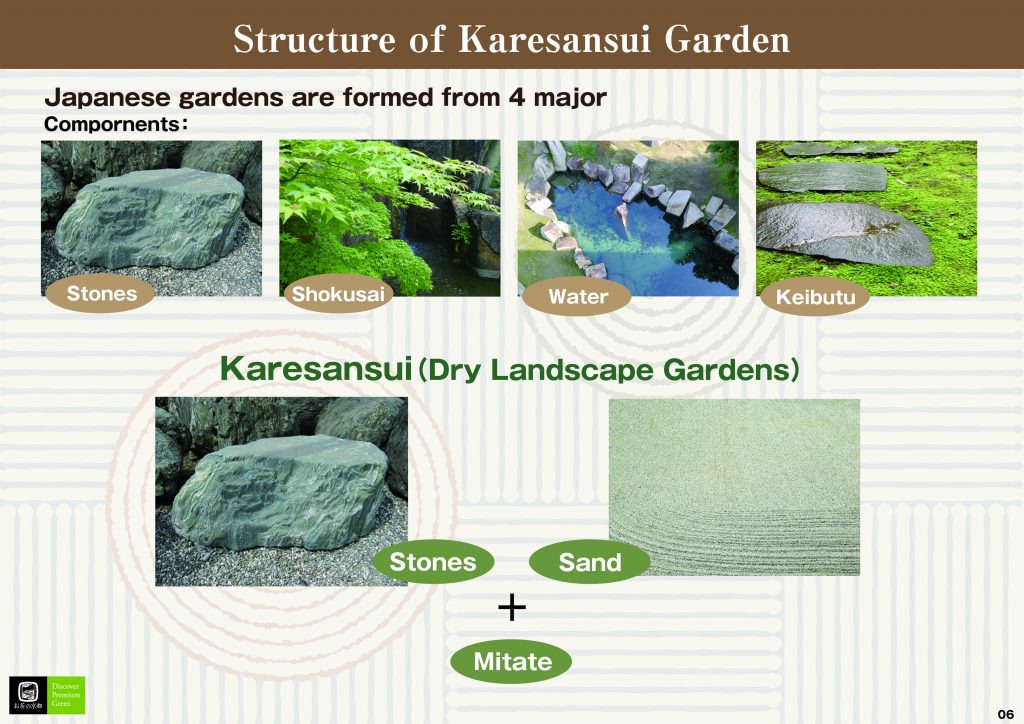 Now, let's get started.
First, flatten the sand in the case. This is a step not only to make the canvas also to flatten or calm down your spirit.
Next, select three stones and place them on the sand in relation to each other considering the flow of energy expressed by the stone's shape, color, and size. Then, place additional four stones in relation to the previous stones. The relation between the stones may be your family, a basketball formation, or whatever you like.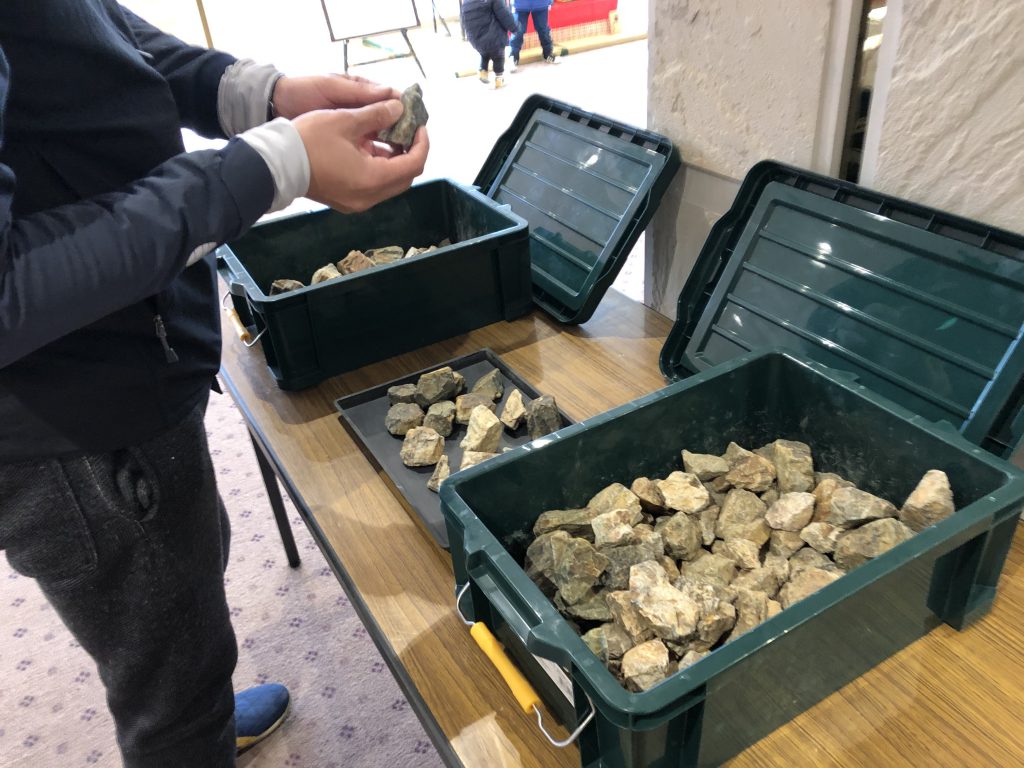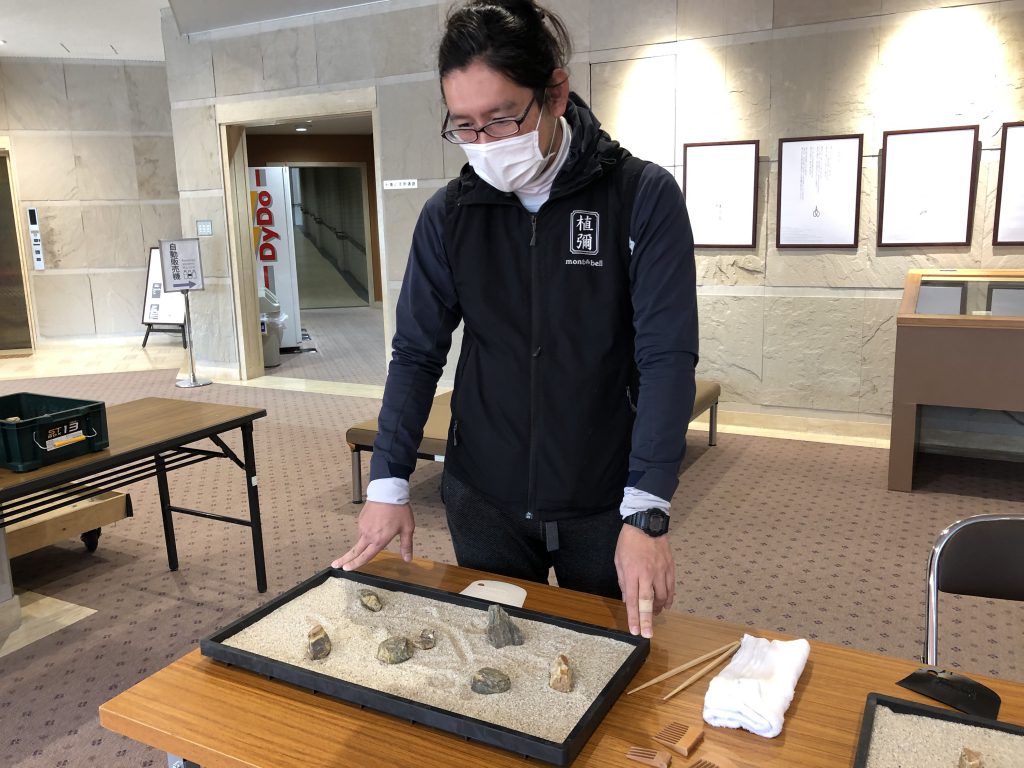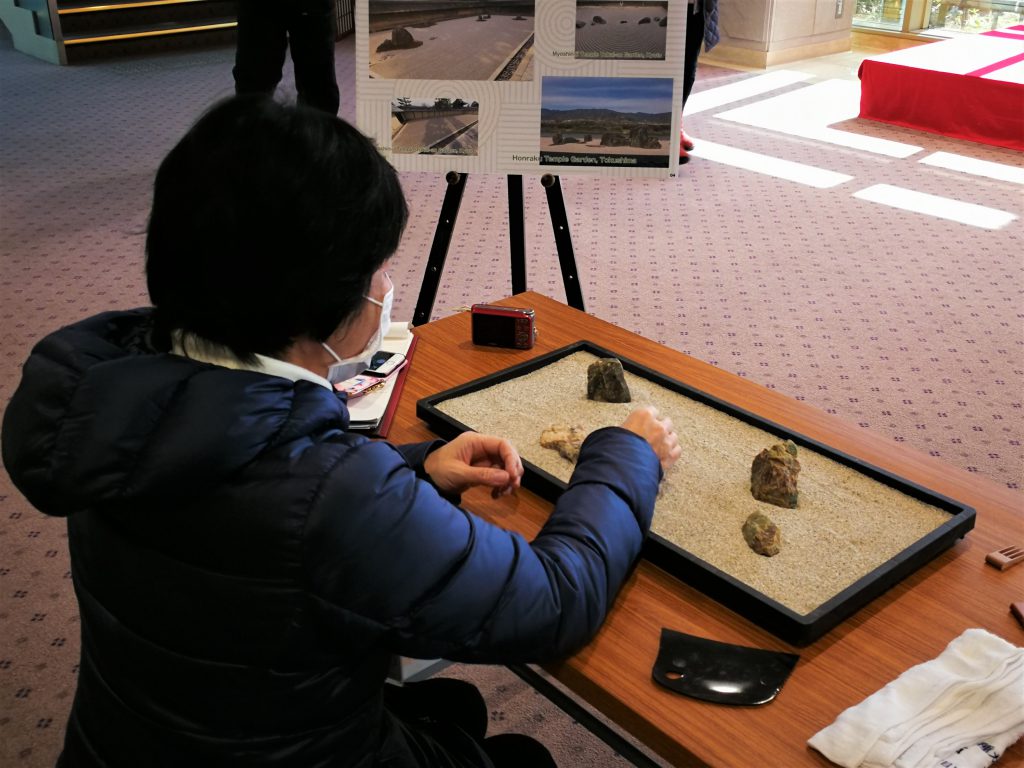 Lastly, draw lines between the stones with a comb-like tool made of bamboo. Please refer to the video about the instructor's professional skills. The shadows created by the lines gave a 3D effect instantly. I had rough lines at first, but I could redraw them. When I drew a dividing line between two stones, the instructor said, "Hmm. I see." Oh-oh, did he notice that I had a quarrel with someone last night? Keep it secret, please!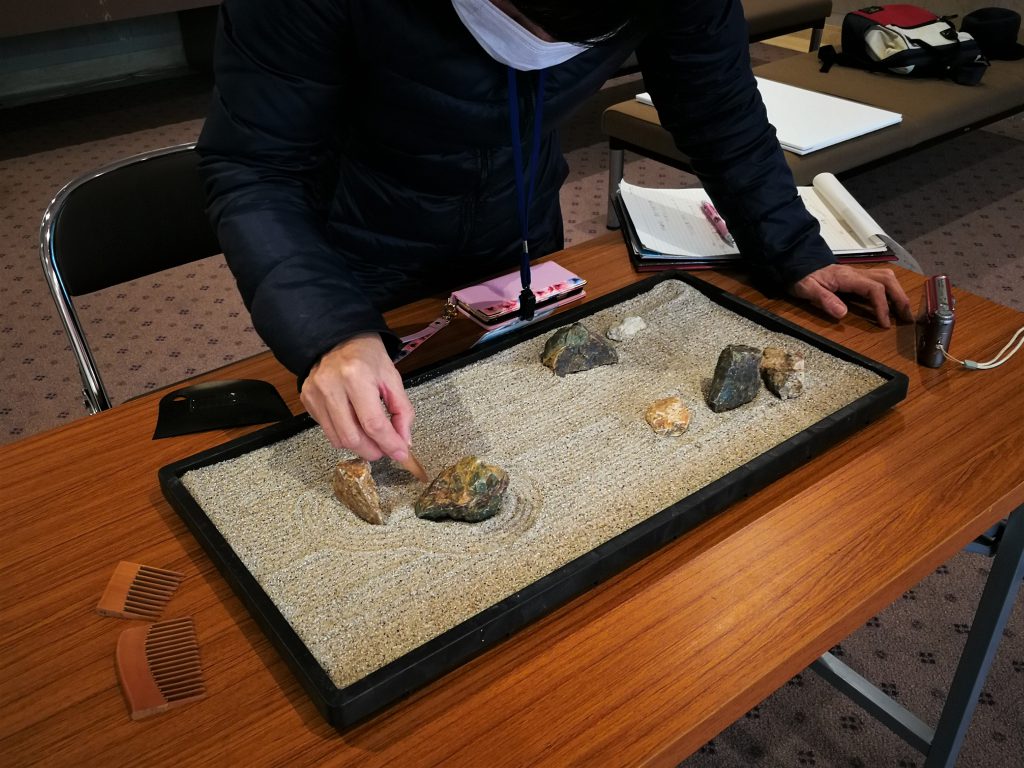 Due to cold weather, we had the experience in a hall decorated with upcoming Doll's Festival decorations. The experience is normally held outdoors when the weather is fine. Finally, I was able to take some photos on the balcony. Just like in Japanese flower arrangement or tea ceremony, this Karesansui garden exists only at this moment. When I finished this experience, I felt that I could appreciate the Zen teaching "Ichigo-ichie" or "Treasure every moment, for it will never recur". Thank you for the wonderful experience!