At a green tea workshop on the Uji river, you can appreciate various charms of Japanese tea to your heart's content.
Written by National Government Licensed Guide Interpreter Ikuko Kubota
Uji region known for its quality tea called Ujicha has a proud 800 year history. On the banks of the Uji river stands the "Ujicha Kobo Workshop" managed by Fukujuen where you can experience Uji tea culture, such as grinding tea leaves in a stone mill, pottery making, and making Matcha. At its restaurants you can enjoy sweets and meals made with green tea.
Established in 1790, Fukujuen, the operator of the studio is one of Kyoto's leading Japanese tea production and sales companies with a 230 year history. Once you enter the building, you'll find a shop selling a wide variety of green tea and tea utensils. Pottery works of local artists such as ceramic bowls and tea pots etc. are available for sale at a stall behind this shop.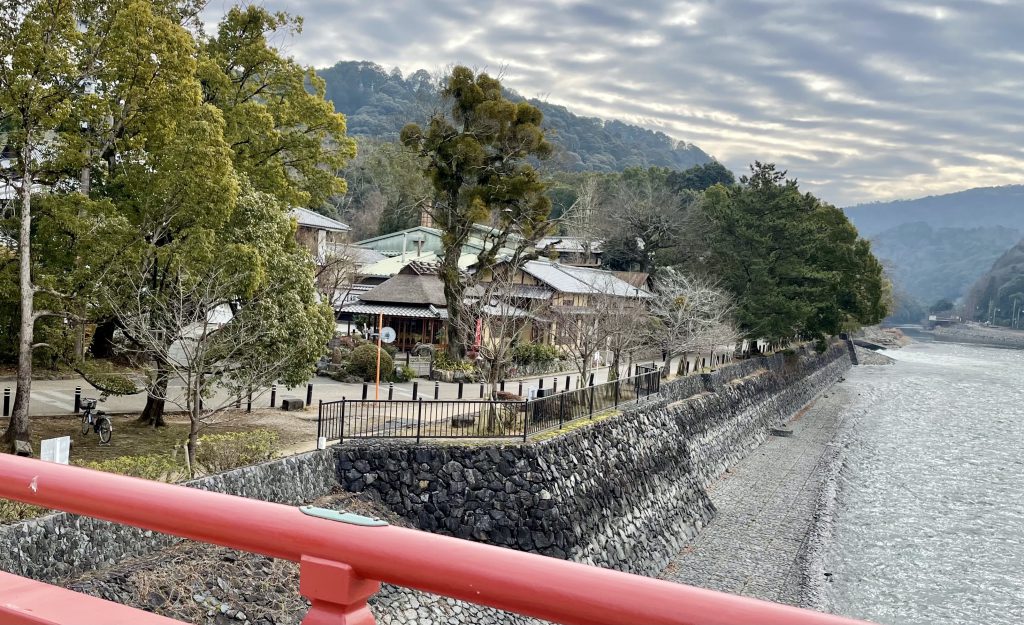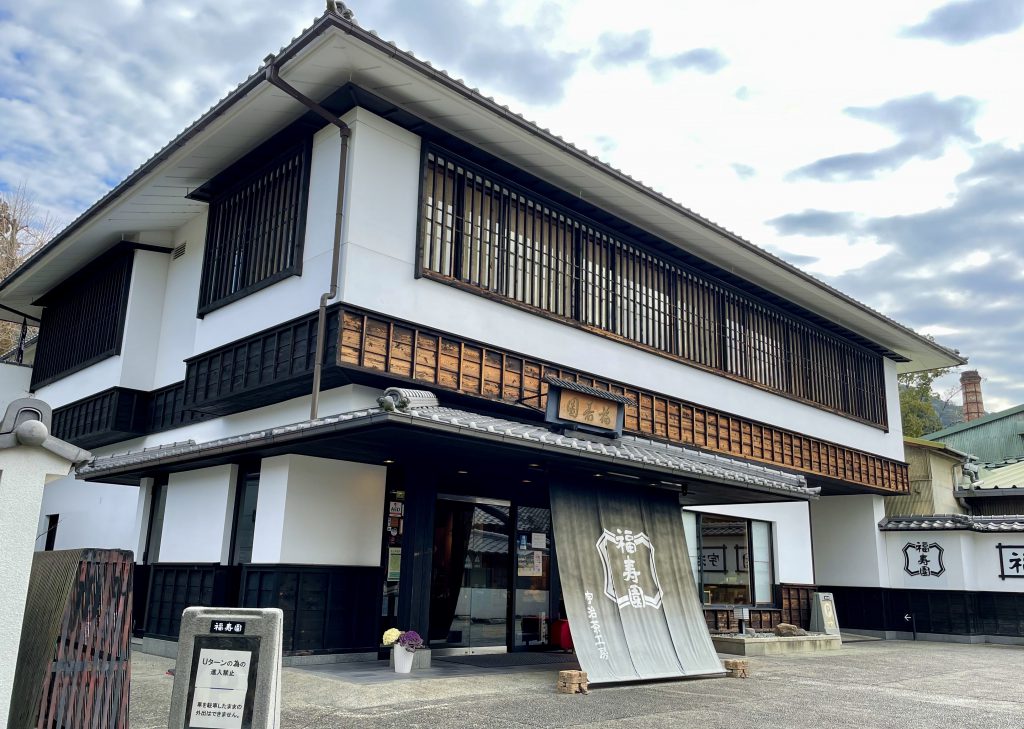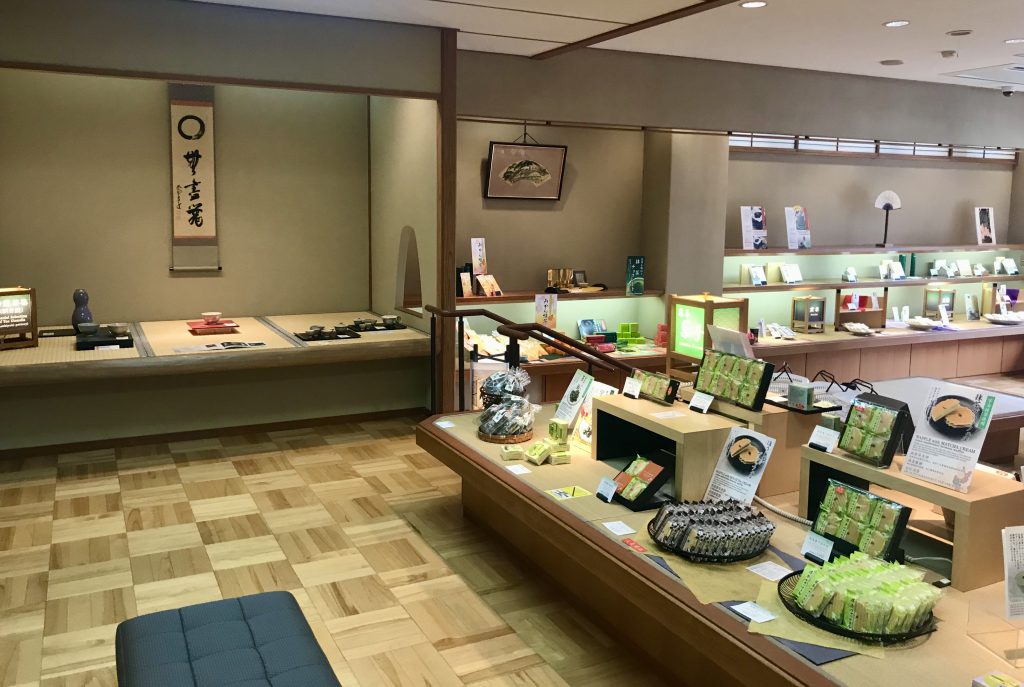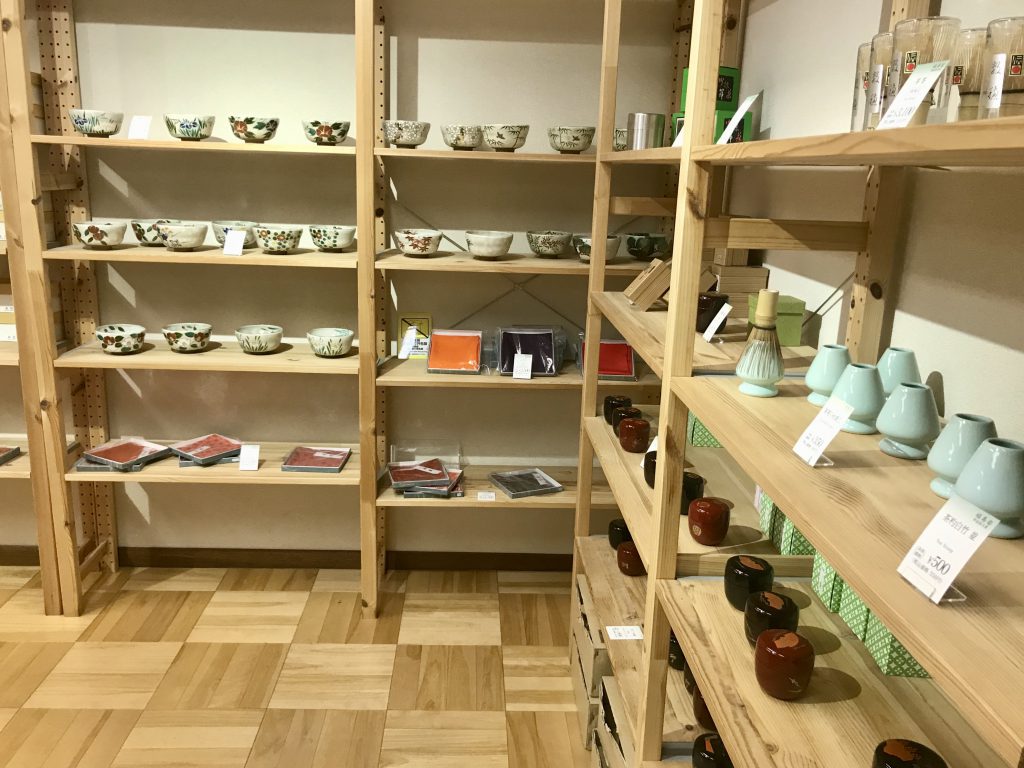 Inside the building, there is a reference room where you can learn through videos and an exhibition the history of Uji tea and how tea leaves were processed in the old days. Various old tea manufacturing machines are on display here. Notable among them is an old tool used to make hand-rolled tea. In the old days, tea was manufactured by hand-rolling tea leaves without using any machines. This method to use a tool for hand rolling, Japan's the very first tea manufacturing method was devised by Mr. Souen Nagatani in 1738, The remarkable invention is preserved as an intangible cultural asset of Kyoto Prefecture.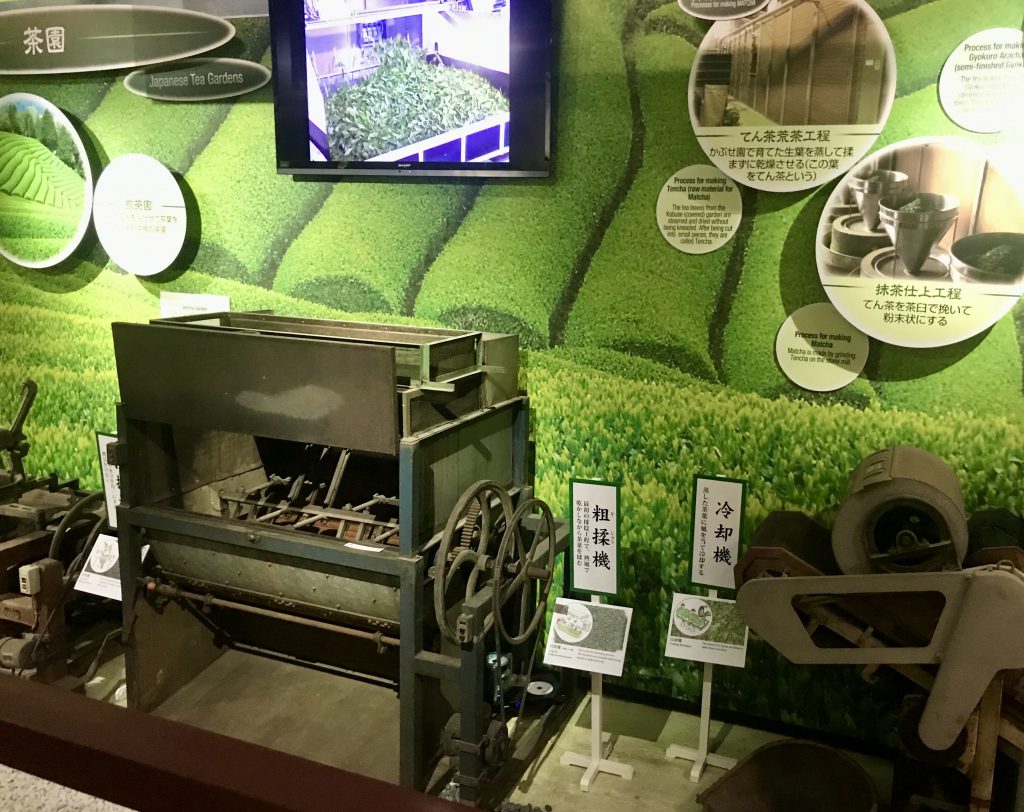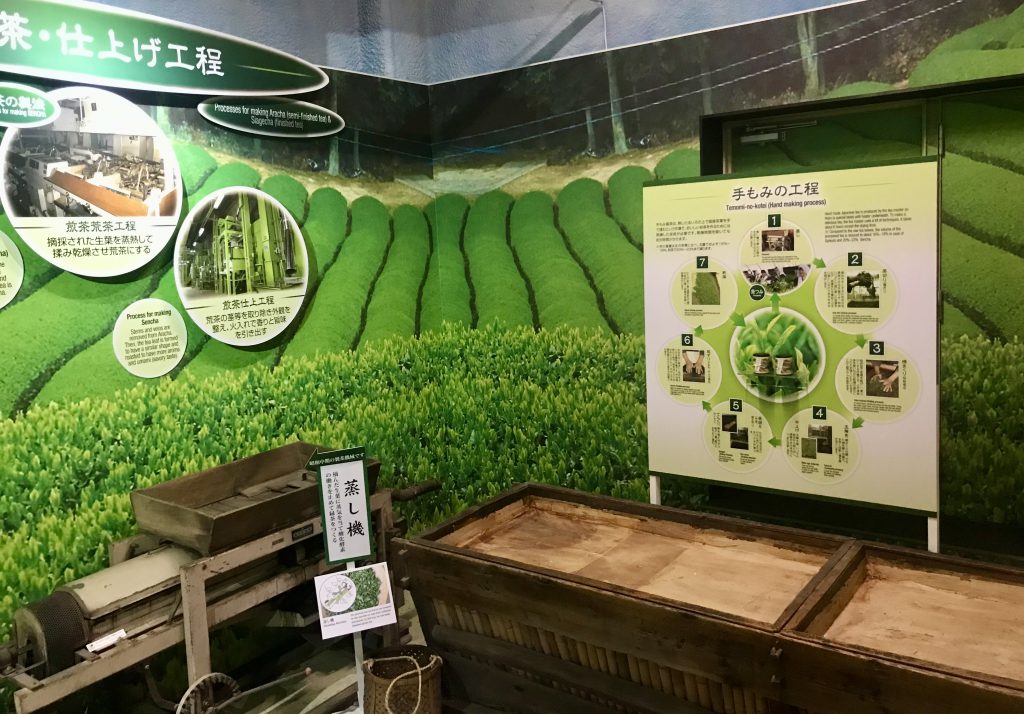 On the 2nd floor you will find two traditional tea rooms where you can observe tea master's skills in tea ceremony, learn tea manners and experience the tea ceremony.
Now, it's time to experience the stone mill. Place tea leaves on the top of a granite stone mill. Leaf axis, leaf veins and stems are all removed from tea leaves in advance before grinding in order to produce very fine powder. These granite stone mills are shiny and from what I've heard, seems to be expensive.
Tea leaves are need to be ground slowly and steadily (3 seconds per rotation). Please watch the video. A veteran is grinding it.
Matcha is still made by grinding in stone mills as the stone mill reduces friction and keep the leaves at a constant temperature. From the bottom of the mill comes out very fine green Matcha powder with a nice aroma and beautiful green color! Now, I'm going to put the freshly ground tea into a tea canister and take it out for another experience.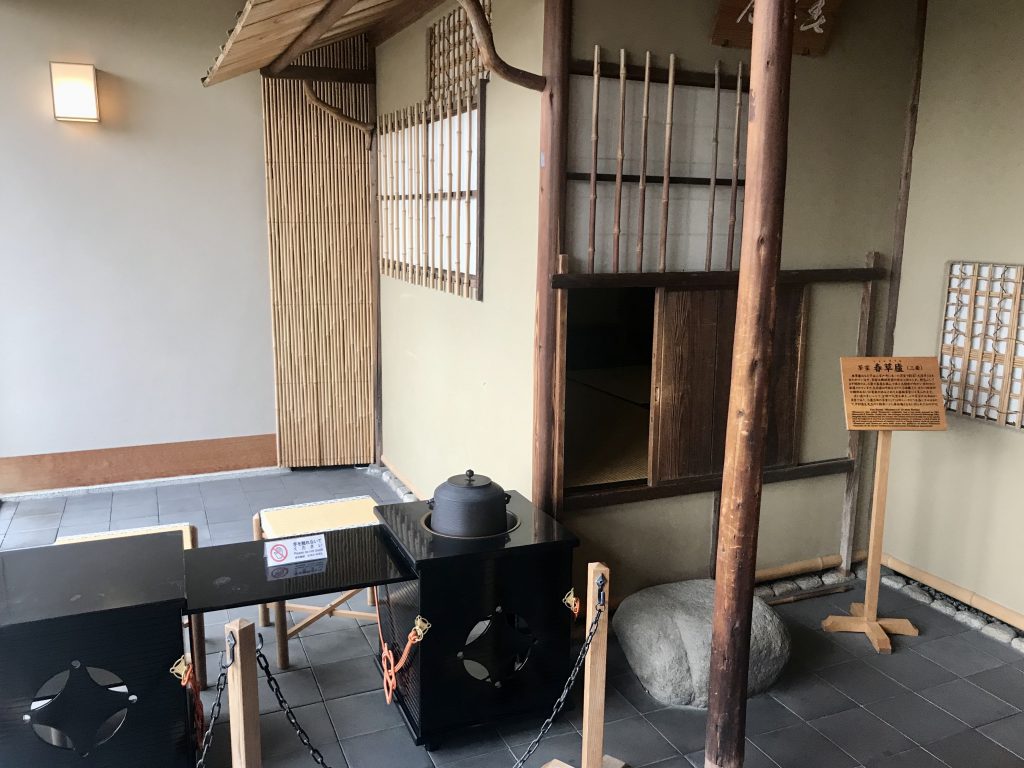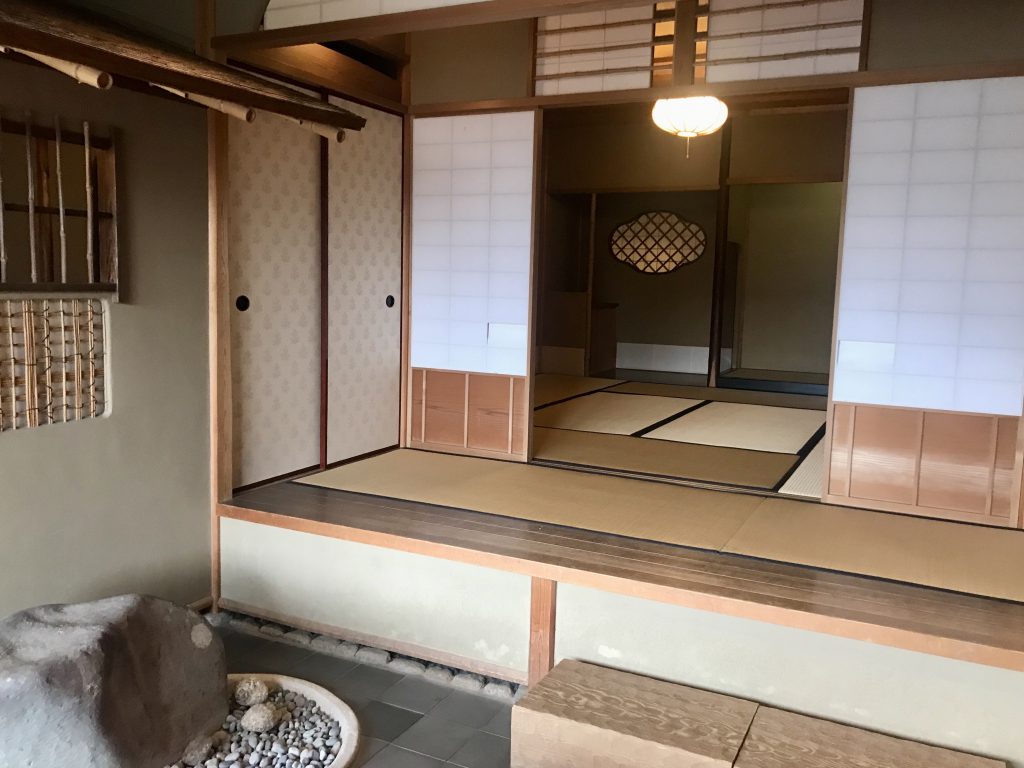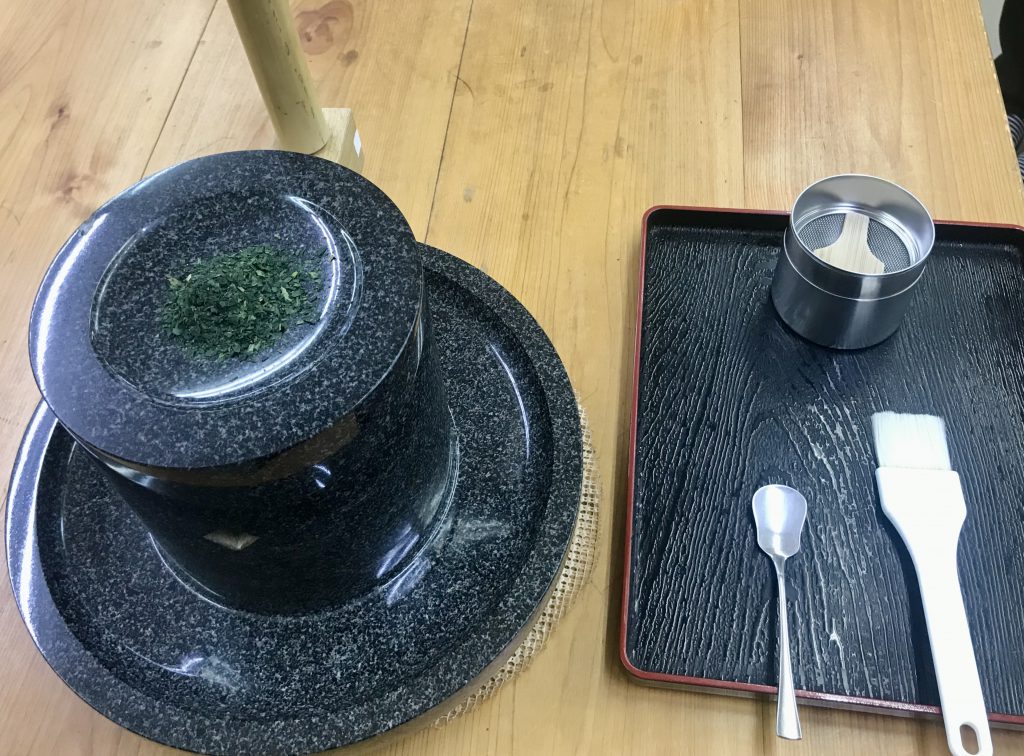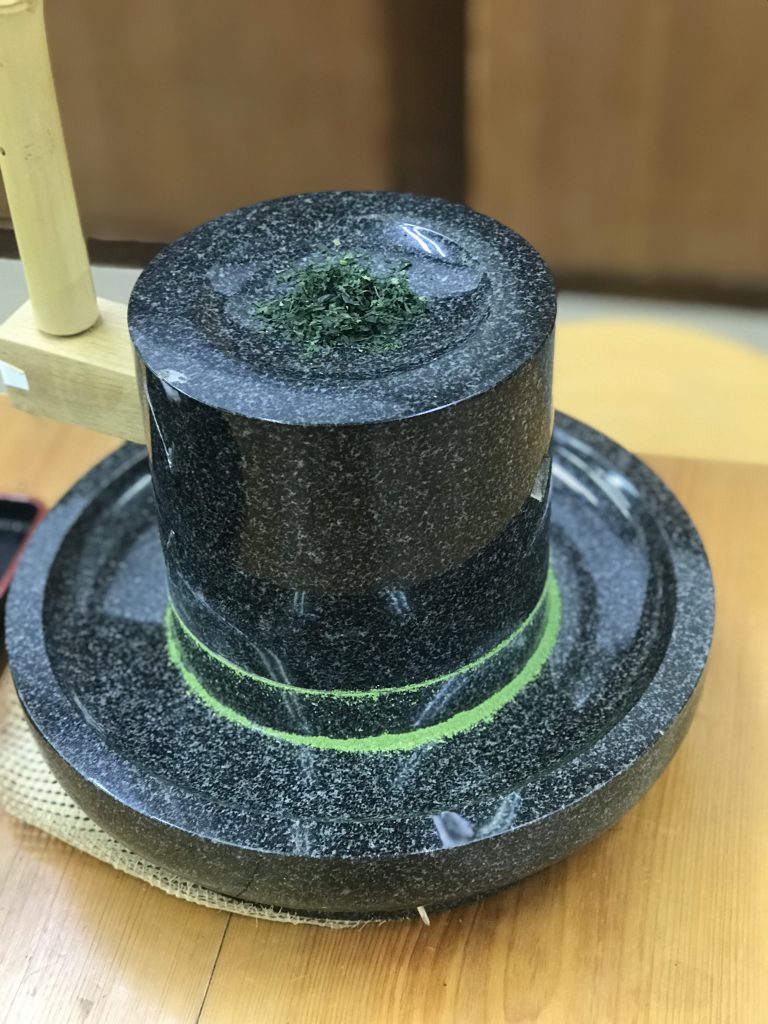 Outside, a tea garden spreads out. Facing the plantation, 20 different cozy tea rooms of different styles are lined up. You can choose your room of choice and enjoy tea here. When the weather is beautiful, terrace seats are the best. Here you can make your tea using your own Matcha and  enjoy the tea while looking at the tea plantation. On the other side of the river you can also see Byoudo-in temple, a national treasure. 
In fact, this terrace is very special. The symbolic Uji bridge over the Uji river has a famous terrace-like space called San-no-ma. It is said that ruler of the nation in the late16 century, Toyotomi Hideyoshi who loved the tea ceremony used to draw water from the river at this very spot. Even now, during the Uji tea festival held in every October, water is drawn from the river at here the same spot.
When the Uji bridge was restored, the original materials from the famous San-no-Ma terrace were brought here and the terrace was reproduced. A stately space where you can feel that history!
At the nice Japanese restaurant "Gyokuro Tei" in the thatched roof building at the premises you can enjoy sweets and Japanese meals made with Gyokuro tea. Enjoy an elegant meal while gazing at Uji river.